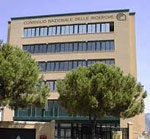 The meeting will be held at the Consiglio Nazionale delle Ricerche, Area della Ricerca di Palermo.
Via Ugo La Malfa 153
90146 Palermo, Italy
Larger map
by Air
The Falcone-Borsellino International Airport provides daily direct connections with major Italian and European hubs. For detailed information, please visit the airport's website.
From the airport, the "Trinacria Express" shuttle train provides a quick connection to Palermo's central station every hour. On this line, the nearest stop to the CNR Area della Ricerca is S. Lorenzo Colli (travel time: 35 min).

The organisers have secured an arrangement with Night Shuttle to provide meeting participants with a shuttle service to and from the airport at a cost of 10 EUR per person (minimum 3 persons). This arrangement is valid between the airport and the venue or between the airport and your hotel. To book this service, please contact telephone number +39 091 6883901.
by Train
The main railway station in Palermo is Palermo Centrale/Piazza Giulio Cesare. Palermo is connected with all the major Italian and European cities. For timetables, please visit Trenitalia.
by Boat
You may find it convenient take your car to Palermo. There are two shipping companies that offer this possibility.
Grandi Navi Veloci offers three connections:
from Genoa (Genova), daily; duration: 20 h
from Leghorn (Livorno) three times a week; duration: 19 h
from Rome/Civitavecchia, daily; duration: 12 h
Tirrenia connects Palermo and Naples (Napoli) every day; duration: about 10 h.